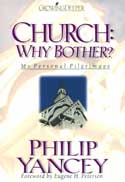 Philip Yancey asks the question we're all wondering in his booklet Church: Why Bother? My Personal Pilgrimage. The first chapter starts with this quote from J.F. Powers' Wheat That Springeth Green that summarizes the whole conundrum of the church:
"This is a big old ship, Bill. She creaks, she rocks, she rolls, and at times she makes you want to throw up. But she gets where she's going. Always has, always will, until the end of time. With or without you."
Having grown up in a racist, fundamentalist church in the Deep South, Yancey has every reason to abandon the church. But he's found that the Christian faith can only be lived in community. "Perhaps for this reason, I have never given up on church. At a deep level I sense that church contains something I desperately need." (23)
Early in the book Yancey focuses on four things that changed his perspective on the church:
1) Looking Up
Rather than approaching church as a consumer and looking at the external trappings of church, the music style, the quality of the sermon, the mechanics of the service, Yancey learned to look up to God. That is, after all, the purpose of church. God is the audience for our worship; those of us with butts in pews do not comprise some passive audience.
2) Looking Around
Diversity. Church is not about finding a body of like-minded people, or a body of look-alikes. The early church stood out for its radical diversity, yet so many churches today have little racial, economic, age or educational diversity. We can learn so much from those who aren't like us.
3) Looking Outward
Yancey summarizes evangelist Luis Palau: "The church, he said, is like manure. Pile it together and it stinks up the neighborhood; spread it out and it enriches the world." (33)
4) Looking Inward
Here Yancey summarizes the amazing grace of God, a refrain repeated more fully in his book What's So Amazing About Grace? If churches were able to harness this sort of grace, rather than just sing about it, it would be a radically different institution.
From there Yancey goes on to present several metaphors for the church, including:
A 12-step program
Driver's license bureau
An emergi-center (those emergency clinics that aren't quite the emergency room)
The CTA train (or any city bus, subway, etc.)
Locker room
Yancey concludes that the church is the way God has chosen to be present on earth, as imperfect as it may be:
"Yes, the church fails in its mission and makes serious blunders precisely because the church comprises human beings who will always fall short of the glory of God. That is the risk God took. Anyone who enters the church expecting perfection does not understand the nature of that risk or the nature of humanity. Just as every romantic eventually learns that marriage is the beginning, not the end, of the struggle to make love work, every Christian must learn that church is also only a beginning." (99)